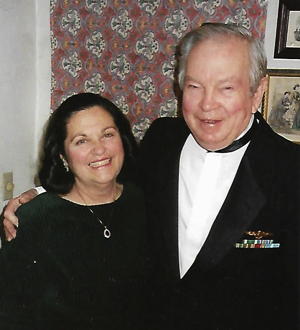 M. Elaine Tefft who established the Foundation seventeen years ago, and her late husband Stanton E. Tefft.
In 2005, I decided to carry on with the work my late husband and I had been doing. The mechanism I chose was to establish a Foundation. The Tefft Foundation became a 501C(3) in 2013. Prior to that year, it was funded entirely from my personal funds.
The primary function of the Foundation is the preservation of our culture and heritage. We do that primarily by supporting and recognizing seniors in nine New Hampshire schools who act to preserve and promote jazz music, civil rights and track & field sports.
Stan and I devoted substantial time, effort and resources to those areas. The Foundation maintains that focus wherever there is some aspect of our culture and heritage that is threatened. That has resulted in awards being given in New Hampshire, Louisiana and Massachusetts.
FOUNDATION NEWS
Seth Baylus who graduated from Merrimack High received the 2022 Tefft Foundation Award for his efforts in track and field. He devoted substantial time helping and coaching his teammates and officiating at meets. He not only demonstrated his passion for the sport but also his passion to help others succeed along with him. He is the first winner that I have seen run in an event - on television during the six o'clock news.

Currently, there are 33 lesson plans available nationwide FREE to K-12 featuring videos and support materials including outlines of educational standards, lessons, and how to evaluate that lesson. Making this content accessible and inclusive, the Preservation Hall Foundation, offers several Webinars specifically addressing the needs of teachers of students with disabilities as well as the students.

The Board voted unanimously to include seniors from Gilford High School in Gilford, NH to the list of schools. Colton Workman, a graduate of Gilford High was the first winner of the Preservation of American Heritage Award.

7 - CIVIL RIGHTS
12 - JAZZ MUSIC
12 - TRACK & FIELD
1 - PRESERVATION OF OUR HERITAGE